The Government of Ecuador, current leader of the G77, continues to champion the establishment of a UN Global Tax Body to end tax havens. On Thursday 6 April, Ecuador, together with the Government of South Africa, and working with the Global Alliance for Tax Justice, hosted a UN side event in New York: "Towards an international tax agenda based on rights and equality for tax justice: For a UN global tax body and the achievement of Agenda 2030." This forum was held in connection with the UN meetings this week of the 14th session of the Committee of Experts on International Cooperation in Tax Matters (Committee) and the ECOSOC special meeting on international cooperation in tax matters.
Also on Thursday, new legislation introduced in the United States by Democratic Representatives takes aim at the biggest offshore tax avoidance loopholes. See this statement on the introduction of this legislation during the Global Week of Action to #EndTaxHavens by Clark Gascoigne, deputy director of the FACT Coalition, the North American regional network member of the Global Alliance for Tax Justice.
At the European Union PANA (Panama Papers) hearings in Brussels, Tax Justice Network-Africa's Alvin Mosioma presented on the "Impact of the schemes revealed by the Panama Papers on Developing Countries", along with TJN-A's Nuhu Ribadu who "made a passionate case for the world to rise against illicit financial flow and tax evasion. They're crimes against humanity." The hearing was live here.
And in Rwanda, ActionAid staff shared their messages to #EndTaxHavens!
MORE CAMPAIGN NEWS THIS WEEK:
Check out this great new video by Attac France about creative actions in Paris last Saturday, 1 April.
Here are some photos from the Presidential Candidates round-table debate in France organized by Plateforme Paradis Fiscaux et Judiciaires on Monday 3 April, marking the one year anniversary of the publication of the Panama Papers. 
Plateforme Paradis Fiscaux et Judiciaires members also organized a Tax Lobby Tour in the La Défense, Paris business district. See more photos and videos here.
Also on Monday, Oxfam Intermón presented Spain's four major political parties with a petition calling for a Law against tax evasion and avoidance, "Ley contra la Evasión y Elusión Fiscal", signed by 183.235 people already!
On Tuesday 4 April in Canada, ATTAC-Québec and partners organized a fabulous comedy cabaret "Front commun comique contre les paradis fiscaux" (Photo copyright Gilles Pilette)
ATTAC-Québec and network members are celebrating the publication this week of the report of the Quebec Committee on Public Finance on the use of tax havens. "The recommendations in this report are an excellent first step. They can significantly reduce tax avoidance and evasion if applied. This report addresses the key issues related to tax havens, such as the creation of screen companies, double tax treaties and transfer pricing," said Claude Vaillancourt, President of ATTAC-Quebec. Several of the recommendations in the submission filed by ATTAC-Québec were accepted by the Commission, in particular those concerning the Caisse de dépôt et placement du Québec. The report recommends that it reduce "gradually its investments in companies that make abusive tax avoidance or evasion" and that it requires companies in which it invests significantly to stop resorting to tax havens. The report also recommends that the Government of Quebec no longer grant contracts or subsidies to firms and firms found guilty of facilitating or avoiding tax evasion or avoidance.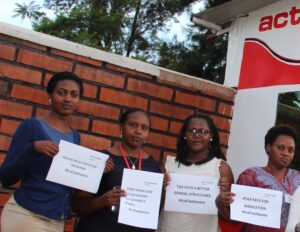 In London, Christian Aid, Tax Justice Network and Methodist Tax Justice Network members held a protest "In Praise of Whistleblowers" in front of the PwC Head Office on Wednesday 5 April. See this report about the event by David Haslam, Chair, Methodist Tax Justice Network.
In Spain, Oxfam Intermón published a video about a stunt including a fake travel agency, offering free trips to tax havens, paid for by the Spanish people!
Luxembourg: Antoine Deltour has announced he will appeal #Luxleaks #whistleblowers verdict to Luxembourg supreme court. We support you Antoine!
More blogs & opinion editorials!
Burundi: CIDEP's Appolinaire Nishirimbere featured this article in his blog The Burundian  Semaine mondiale dédiée à l'action pour mettre fin aux paradis fiscaux
Sweden : "Dags för Sverige och EU att stoppa skatteflykten" an opinion editorial by Diakonia and Fair Finance Guide Sweden, in Svenska Dagladet.
Ireland: Global tax system still defective a year after Panama Papers in the Irish Times, by Sorley McCaughey, head of advocacy and policy at Christian Aid Ireland
Spain: Expulsados del paraíso (fiscal), by Miguel Alba, from Oxfam Intermón and Spanish Platform for Tax Justice in El Diario's blog (des)igualdad
USA: FACT Coalition's publication "New Bills Take Aim at Offshore Tax Haven Abuse" welcomes the introduction of new legislative measures in the US
Press review
Spain: Article in El Economista about Oxfam's petition and the Spanish Platform on Tax Justice's Congress hearing, helod Monday: "Sindicatos, ONG y asociaciones exigen al Congreso sancionar a quien tribute en paraísos fiscales."
Sweden: Interview with Diakonia and Swedish Minister for Finance, 3 April in Swedish daily newspaper Dagens Nyheter.
Publications
GATJ regional network Red de Justicia Fiscal de América Latina y el Caribe has posted at the campaign website PaguenloJusto.org a Spanish translation of the "10 reasons we need a UN tax body"